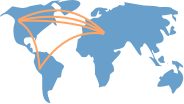 Show Academic Trajectory
USA-2011

For contributions to data center scalability and management.
Research Interests
Distributed Systems, Computer Networks, Operating Systems, Mobile/Wireless Systems.

He has contributed to Google's data center, wide area, edge/CDN, and cloud networking infrastructure, with a particular focus on driving vertical integration across large-scale compute, networking, and storage.