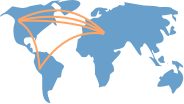 Show Academic Trajectory
I am originally from Pune, India. I am now a research staff member at IBM T.J. Watson in Yorktown Heights NY. I completed my Ph.D. in the Department of Computer and Information Science and Engineering at the University of Florida (UF), Gainesville. My advisor was Dr. Alin Dobra. My primary research areas are Machine learning and Data Mining.

I admire originality and brilliance but believe that having the right attitude is more important in life.