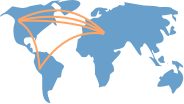 Show Academic Trajectory
My research area is theoretical computer science, in a quite broad sense. I am interested in algorithms for big data, computational complexity, analysis and extremal combinatorics, and algorithmic models for natural systems.

Of late, I have been working at the intersection of distribution learning, property testing, and causal inference.