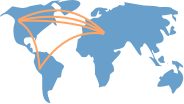 Show Academic Trajectory
I am a Professor at the School of Mathematics, Institute for Advanced Study, Princeton. I organize the school activities in CSDM (Computer Science and Discrete Mathematics).
My main research interests are:
Randomness and Computation
Algorithms and Optimization
Complexity Theory
Circuit Complexity
Proof Complexity
Quantum Computation and Communication
Cryptography and Distributed Computation.