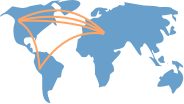 Show Academic Trajectory
I am an applied scientist in computer vision at Amazon Lab126. In the past, I worked with Professors Charles Dyer and Mohit Gupta as a postdoc on computer vision and computational imaging problems, including facial landmark localization and speckle-based motion analysis. My broader interests include image processing, computer graphics, and machine learning.
I defended and submitted my dissertation in May 2014 under the supervision of Li Zhang. As a graduate student, I was supported in part by an NSF Graduate Research Fellowship.