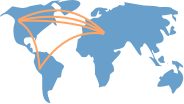 Show Academic Trajectory
Cameron is Physera's Cofounder and CTO. Prior to Physera, Cameron founded and led the Data Science team at Facebook for six years, and was responsible for multiple applied science, product optimization, and other data-driven engineering teams.

Prior to Facebook, Cameron studied social networks at Yahoo! Research and the MIT Media Lab, and his work has been published in Nature and Proceedings of the National Academy of Science (PNAS). He has also advised Buzzfeed, Etsy, and other startups on data applications and engineering management.