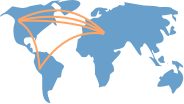 Show Academic Trajectory
My research domain is rooted in data mining methods. I work on co-clustering, pattern mining under constraints, and graph modeling. I am also interested in data science applications. I am currently working on the following subjects:
Pattern and exceptional model mining in attributed and dynamic graphs
Social data analysis
Interactive model mining
Interpretable machine learning models.