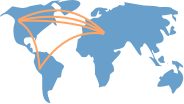 Show Academic Trajectory
My research interest includes various aspects of natural language processing, focusing on semantics and knowledge discovery on large corpora. My recent work lies at the crossroads between question answering, textual inference and information retrieval.

In addition to natural languages, I'm also interested in programming languages: I design expressive, typesafe DSLs for various domain applications (e.g. deep learning).