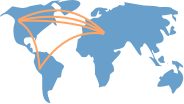 Show Academic Trajectory
Irvine, CA – Sept. 10, 2020 – After a nationwide search, Claire Henchcliffe, MD, DPhil, has been appointed as the new chair for the UCI School of Medicine Department of Neurology, effective October 1, 2020.

Henchcliffe will work alongside colleagues at the UCI Medical Center, located in Orange, California, to meet the growing community needs for neurological care. She will also lead the department in combining compassionate and patient-centered care with transformative research. Henchcliffe is a strong proponent of mentorship for trainees, faculty, and staff, and is committed to expanding the department's efforts to promote diversity, equity, and inclusion in all areas.