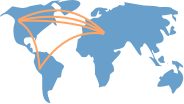 Show Academic Trajectory
Dr. Cuiling Lan is a Lead Researcher at Microsoft Research Asia. She had been a research intern at Microsoft Research Asia for more than three years and was awarded MSRA Fellowship 2011. She was also a visiting student to University of California, Los Angeles (UCLA) from 2012 to 2013.
Her research interests include computer vision, video coding/communication. Her current research focus is on deep learning for pose estimation, action recognition/detection, person re-identification, domain generalization and adaptation.