浏览量:1727
Associate Professor
点击登录, 查看更多内容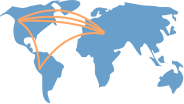 David Kempe received his Ph.D. from Cornell University in 2003, and has been on the faculty in the computer science department at USC since the Fall of 2004, where he is currently an Associate Professor and Associate Chair for Undergraduate Programs. His primary research interests are in computer science theory and the design and analysis of algorithms, with a particular emphasis on social networks, algorithms for feature selection, and game-theoretic and pricing questions. He is a recipient of the NSF CAREER award, the VSoE Junior Research Award, the ONR Young Investigator Award, a Sloan Fellowship, and an Okawa Fellowship, in addition to several USC mentoring awards. Research Interests

Algorithms and theoretical computer science, specifically applications to networks, auctions and mechanisms design, algorithms on graphs, randomized algorithms, and information flow through networks. My publications can be found on the publications page.

Conference Organization

2015 Southern California Symposium on Network Economics and Game Theory (NEGT), jointly with Shaddin Dughmi and Hamid Nazerzadeh. Friday, 10/30/2015 until Saturday 10/31/2015.
2015 Southern California Theoretical Computer Science Day, jointly with Shaddin Dughmi. Saturday, 11/14/2015.
Mini-Symposium on The Formation and Function of Social Networks at the SIAM Annual Conference 2008. Thursday, July 10, 2008, 10:30am-12:30am.