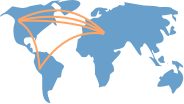 Show Academic Trajectory
I am an Associate Professor in the School of Interactive Computing at Georgia Tech and a Research Scientist at Facebook AI Research (FAIR).
From Jan 2013 - Aug 2016, I was an Assistant Professor in the Bradley Department of Electrical and Computer Engineering at Virginia Tech, where I led the VT Machine Learning & Perception group. From Sep 2010 - Dec 2012, I was a Research Assistant Professor at Toyota Technological Institute at Chicago (TTIC), a philanthropically endowed academic computer science institute located in the campus of University of Chicago.