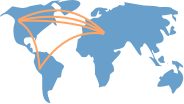 Show Academic Trajectory
I am currently a PhD student at the Department of Computer Science, University of California, Los Angeles. My research interests lie in the theoretical understanding of machine learning and deep learning problems.

My advisor is Prof. Quanquan Gu since 2017. Previously I was working with Prof. Chen Gong and Prof. Zhengyuan Xu in optical wireless communication and networking center in USTC.