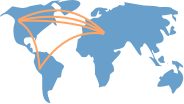 Show Academic Trajectory
Switzerland-2010

For advances in XML data management and distributed information systems.
His current research is focussed on the performance and scalabilty of database and information systems and on platforms for Web services. He is a co-founder of i-TV-T AG, a company that develops Web-based information systems. Furthermore, he is co-founder of XQRL Inc., a company that develops XML database technology and was aquired by BEA Systems in 2002.