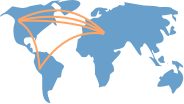 Show Academic Trajectory
Research
My research focuses on computer security from a systems perspective. My work has spanned censorship resistance, Internet protocol security, and embedded systems security.
I have exposed vulnerabilities in insecure electronic voting systems in the U.S. and abroad, developed detection techniques that uncovered weaknesses in widespread cryptographic protocol implementations, and created systems for circumventing large-scale Internet censorship in countries such as Iran and China.