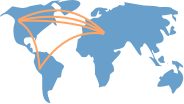 Show Academic Trajectory
I work with Prof. Zhenhui (Jessie) Li. My research interests are data mining, machine learning and information retrieval.

Awards and Honors

- ICDM2013 Student Travel Award.
- Curator's Grant-In-Aid Scholarship at University of Missouri-Columbia.
- Runner-up team in RJI-Hearst Competition 2010.
- Yahoo DSSI 2011 Outstanding Studnt Project Award.