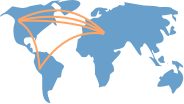 Show Academic Trajectory
Her research interests include image processing and analysis, video compression and computer vision.

Dr. Zhu was selected to participate in the National Institutes of Health (NIH) mHealth Summer Institute in 2011. She was a Student Intern at the Sharp Laboratories of America in the summer of 2007 and attended the McKinsey Insight Engineering & Science Program in the summer of 2008. Her graduate study was partially supported by a Charles C. Chappelle Graduate Fellowship and a Motorola Foundation Fellowship.