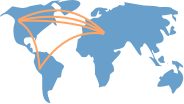 Show Academic Trajectory
Francesco Bonchi has been appointed as the new Scientific Director of ISI Foundation.
Born in San Giovanni Valdarno, Arezzo, in 1973, Earlier Director of Research at Yahoo! Labs in Barcelona, he joined ISI Foundation in 2015, creating and leading the ISI Algorithmic Data Analytics Lab, then becoming Deputy Director with responsibility over the Industrial Research area. In addition to his role as Scientific Director, Bonchi will lead the ISI Learning and Algorithms for Data Analytics area.