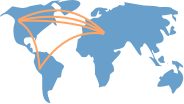 Show Academic Trajectory
Safety Researcher at DeepMind. AGI will probably be wonderful; let's make that even more probable.

Past lives include leading the Reflection Team at OpenAI, neural network theorem proving at Google Brain, cofounding Eddy Systems to autocorrect code as you type, and computational physics and geometry at Otherlab, D. E. Shaw Research, Pixar, and Weta Digital. I have screen credits on Ratatouille, WALL•E, Up, and Tintin.

Interests
AGI Safety
Artificial Intelligence
Theorem Proving
Computational Physics
Games!