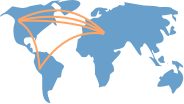 Show Academic Trajectory
My goal is to design computer systems which understand natural languages.
More precisely, my research focuses on developing robust machine learning algorithms for natural language processing, which require minimal amount of supervision. Another important aspect of my work is designing methods that are computationally efficient and thus scale to large scale datasets.