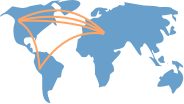 Show Academic Trajectory
I am an Associate Professor and the Vice Dean of Department of Computer Science, at College of Computer Science and Electronic Engineering, Hunan University.

Before I became a professor, I worked at Microsoft Research Asia as an Associate Researcher, from 2016-2018. During my years at MSRA (started from 2014 as a research intern), I was lucky to work closely with many great researchers such as Kun Tan from Wireless & Networking Group, Thomas Moscibroda from Cloud & Mobile Group, Lidong Zhou from System Group, and Yongqiang Xiong from Networking Group.