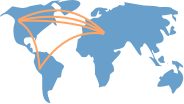 Show Academic Trajectory
Hi! I am Dr. Javier Civera, associate professor at the SLAM Lab, Robotics, Perception and Real-Time Group, in the University of Zaragoza, Spain.
My research interests are within Computer Vision and Robotics, specifically Structure from Motion, SLAM and visual recognition. I am currently lecturing Computer Vision, Machine Learning and AI courses at Bachelor and Master level.