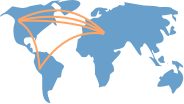 Show Academic Trajectory
I am a Research Scientist at MIT Media Lab where I work with Joi Ito on cryptocurrencies (at the Digital Currency Initiative) and Ethics of Artificial Intelligence (at the Ethics Initiative).

I co-invented Zerocash and co-founded Zcash. Both of these rely on libsnark, the efficient C++ library for zero-knowledge proofs, that I am an author of.