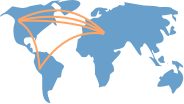 Show Academic Trajectory
I am an associate professor in the Department of Computer Science at the University of Illinois at Urbana-Champaign. My main area of research is computational linguistics or natural language processing.
Before coming to Illinois, I was a postdoc with Aravind Joshi at the Institute for Research in Cognitive Science at the University of Pennsylvania, and also a frequent visitor to Ken Dill's research group at UCSF. Before that, I did a PhD in Informatics at the University of Edinburgh with Mark Steedman.