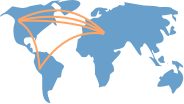 Show Academic Trajectory
Dr. Arenberg is a nationally certified and state-licensed audiologist with professional associations including the American Speech-Language-Hearing Association, the Association for Research in Otolaryngology, the American Auditory Society, and the American Cochlear Implant Alliance.
Dr. Arenberg's clinical interests include individuals who have severe hearing loss and can benefit from cochlear implants. She also conducts research with the hope of improving the quality of life of people with severe hearing loss, especially those treated with cochlear implants.