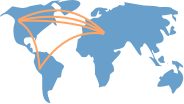 Show Academic Trajectory
I am a researcher at Apple, working on data visualization and interactive systems for artificial intelligence.

Systems I developed have won awards at premier academic venues, and are used by the Jupyter/Python data science communities and leading tech companies including Apple, Google, Microsoft, Netflix, Twitter, and Uber. Here is an overview talk covering my PhD research.