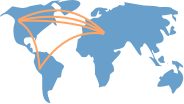 Show Academic Trajectory
Katherine Isbister, professor of computational media at UC Santa Cruz, has been recognized by the Association for Computing Machinery (ACM) as a distinguished scientist for her contributions to the field of computing.

The ACM Distinguished Member program recognizes up to 10 percent of ACM worldwide membership based on professional experience as well as significant achievements in the computing field.

Isbister's research focuses on human-computer interaction and developing new methods for improving the experience of interactive technologies. She is particularly interested in designing games and other interactive experiences that heighten social and emotional connections. She is the author of several books, including Better Game Characters by Design and, more recently, How Games Move Us: Emotion by Design.