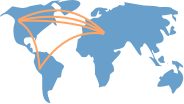 Show Academic Trajectory
USA-2008

For contributions to computational geometry.
My work has mainly been on geometric algorithms, and in particular on algorithms that have provable properties, but are relatively simple. Randomization is quite useful for this, whether via the Vapnik-Chervonenkis dimension, or using the general framework I introduced here. See, for example, a (somewhat dated) survey on randomized geometric algorithms.