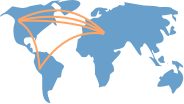 Show Academic Trajectory
My main work laid down foundations of visual-question-answering where I am one of the pioneers of the field. I was also working on intuitive physics, zero-shot learning, text-to-image retrieval, and image classification.

Before DeepMind, I was a Ph.D. student in Computer Vision at Multimodal Computing group at the Max Planck Institute for Informatics and Saarland University. I have graduated with summa cum laude and was awarded Eduard-Martin-Preis for the outstanding doctoral dissertation. The research that I led or was a part of featured in Bloomberg Business, Wikipedia, New Scientist, and MIT Technology Review.