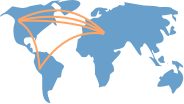 Show Academic Trajectory
USA-2003

For contributions to multiprocessor architecture.
Dr. Horowitz's current research interests are quite broad and span using EE and CS analysis methods to problems in neuro and molecular biology to creating new agile design methodologies for analog and digital VLSI circuits. He remains interested in learning new things, and building interdisciplinary teams.