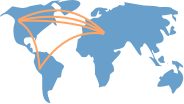 Show Academic Trajectory
I obtained my PhD from Saarland University in Saarbrücken, Germany under the supervision of Gert Smolka.

In January 2013, I joined the Information Systems Group as a Research Assistant to work on the EPSRC project Score!. From February 2016 to August 2017, I worked as a Senior Researcher on the EPSRC project ED3. Since September 2017, I am a Departmental Lecturer in Logic and Databases.