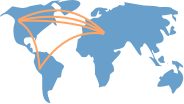 Show Academic Trajectory
My primary research interests are in cryptography and security, with particular interest in cryptography in practice, cryptanalysis, privacy, lattices, computational number theory, and coding theory.

From 2013 until 2018, I was an assistant professor in the Computer and Information Science Department at the University of Pennsylvania. Before then, I was a postdoctoral visiting researcher at Microsoft Research New England in Cambridge, MA, and an NSF mathematical sciences postdoctoral fellow in the Department of Computer Science and Engineering at UC San Diego.