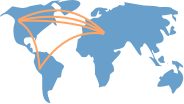 Show Academic Trajectory
I research Artificial Intelligence (AI) techniques for the creation of intelligent, autonomous robots that can work with or for humans. In my professional life I am:

A faculty member in the Oxford Robotics Institute where I lead the GOALS research group.
An Associate Professor in the Department of Engineering Science
A Tutorial Fellow in Pembroke College
An Honorary Reader in the School of Computer Science, University of Birmingham.