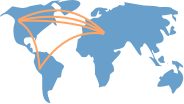 Show Academic Trajectory
I am a Professor of Computer Science in the School of Engineering and Computer Science of the Hebrew University of Jerusalem. I am also a member of the Center for the Study of Rationality.

Research Interests
I am interested in the border of Computer Science, Game Theory, and Economics, an area often called "Algorithmic Game Theory" or "Economics and Computation". In particular I am interested in electronic markets and auctions.