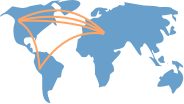 Show Academic Trajectory
I am a Staff Researcher at PAIR and lead for the HCI-AI group at Google Research India. My research focuses on equitable human-AI interaction among marginalized communities.

I am an affiliate faculty at the Paul G. Allen Center for CS & Engineering at the University of Washington. I publish in the areas of HCI, ICTD, and Privacy/Security. I have done stints at Microsoft Research India, IBM T J Watson, and Nokia Research Tampere.