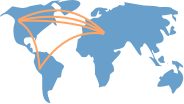 Show Academic Trajectory
I am an SNSF Professor at the University of Zurich working on natural language processing, with a special focus on machine translation and deep learning. My SNSF project focuses on better natural language understanding with multilingual resources and multi-task learning.
I am also a Lecturer at the University of Edinburgh. I am a member of the Machine Translation Group and the Edinburgh NLP Group - come join our weekly meetings.