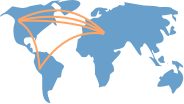 Show Academic Trajectory
I have broad interests in machine learning, data mining, natural language processing, and pattern recognition. Currently, I am interested in the following topics:
Machine Learning and Data Mining: supervised/semi-supervised learning, transfer learning, domain adaptation, online learning, feature selection.
Natural Language Processing: text classification, sentiment analysis and opinion mining, information extraction, recommendation system.