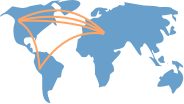 Show Academic Trajectory
I am a Principal Researcher, working in the area of computational social science. My work focuses on applying insights from analyses of large scale naturalistic data to problems of interest to society.

As part of the Urban Innovation Initiative at MSR Redmond, my research is centered around productivity and economic development, environmental impact, and social equity in urban areas.