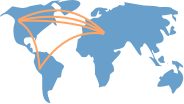 Show Academic Trajectory
Sophia Ananiadou is Professor in the School of Computer Science at the University of Manchester and is the director of The National Centre for Text Mining (NaCTeM) the only centre of its type in the world.
She has led the development of the text mining tools and services currently used in NaCTeM with the aim of providing scalable text mining services: information extraction, intelligent searching, association mining, etc. She has received the IBM UIMA innovation award 3 consecutive times and is also a Daiwa award winner.