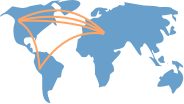 Show Academic Trajectory
I am interested in algorithms and computational complexity. In particular, in constraint satisfaction problems (CSPs) in its many forms (e.g., decision, counting, optimisation, promise).
All my publications are available online.
I am grateful to the ERC for their support via the starting grant Power of Algorithms in Discrete Optimisation.