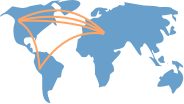 Show Academic Trajectory
I am a Research Staff Member at the IBM T.J. Watson Research Center, Hawthorne, NY and a member of the Secure Software and Services group. My current research is on software security, specifically focusing on Web 2.0 applications.

Previously I worked on distributed systems, in the Distributed Messaging Systems group. My work spanned (1) real-time distributed systems, (2) resource management and service guarantees for distributed event infrastructures (3) scalable and fault-tolerant distributed messaging in the Gryphon system.