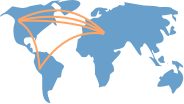 Show Academic Trajectory
Tong Xu is an Associate Researcher at University of Science and Technology of China. Before that, he once stayed as a visiting student co-supervised by Prof. Hui Xiong at Management Science and Information Systems Department of Rutgers, the State University of New Jersey. His research interests include Social Network & Media Analysis, Recommender System and other data mining related techniques.
Currently, Tong serves as a committee member of the Youth Working Committee, CIPS, and a communication committee member of the Expert Committee of Social Media Processing, CIPS.