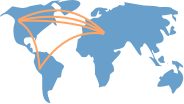 Show Academic Trajectory
I am extremely fortunate to be advised by Ruslan Salakhutdinov. I have broad interest in the theory and applications of modern machine learning, including reinforcement learning in particular.

During my undergraduate I visited University of Michigan in Spring 2016 and worked with Seth Pettie on distributed computing.