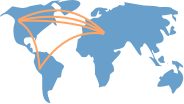 Show Academic Trajectory
I'm interested in Natural Language Processing, Deep Learning and Computational Linguistics. Much of my research is about Natural Language Generation (mostly) and Natural Language Understanding (as a tool for better generation).

You can find some details in this interview I gave to PyImageSearch or this earlier interview I gave to LionBridge.AI where I discuss the work we do at Huggingface, current trends in AI/NLP and my unusual background.