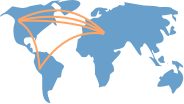 Show Academic Trajectory
Johanna M. (Marianne) Geleijnse, PhD, completed her MSc degree in Epidemiology at the Netherlands Institute of Health Sciences, Rotterdam, in 1994. She then went on to earn her PhD from Erasmus University Medical School in Rotterdam in 1996, with a dissertation "Sodium, potassium and blood pressure: studies in the young and the old".

She is currently an Associate Professor of Epidemiology at the Division of Human Nutrition at Wageningen University.

Her research focuses on the role of diet and lifestyle in the prevention of hypertension and cardiovascular diseases.