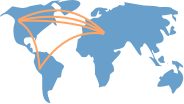 Show Academic Trajectory
My recent work has been on enabling lightweight aerial vehicles to fly in complex environments avoiding obstacles at high speeds. Video above shows our latest flight result.

I am founder and previous chief scientist of Kaarta, a CMU spin-off commercializing 3D mapping technologies leveraging range, vision, and inertial sensing as my PhD work.