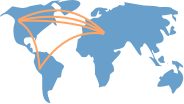 Show Academic Trajectory
Her research interests include natural language processing, automatic summarization, discourse parsing and information extraction.

Dr. Li has published more than 100 research papers, and many of them are published in top-tier conferences, such as ACL, KDD, AAAI, SIGIR, and EMNLP. She has served in the Program Committee of various international conferences including ACL, AAAI, IJCAI, EMNLP, COLING and WWW, and as Area chair of ACL 2017, Area chair of CCL 2015/2017 and Area chair of NLPCC 2016.