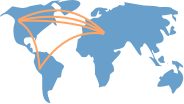 Show Academic Trajectory
Research Interests
Deep learning theory and applications, including generalization and optimization performance analysis of
deep networks, meta learning, adversarial learning, fast algorithm design, etc.
Efficient algorithm design for noncovex/convex special/general problems.
structural data analysis, including subspace clustering and its applications in tensor data recovery and
clustering, etc.