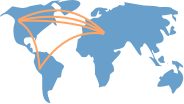 Show Academic Trajectory
Professor Sontag's research interests are in machine learning and artificial intelligence. As part of IMES, he leads a research group that aims to transform healthcare through the use of machine learning.
Dr. Sontag received the Sprowls award for outstanding doctoral thesis in Computer Science at MIT in 2010, best paper awards at the conferences Empirical Methods in Natural Language Processing (EMNLP), Uncertainty in Artificial Intelligence (UAI), and Neural Information Processing Systems (NIPS), faculty awards from Google, Facebook, and Adobe, and a NSF CAREER Award. Dr. Sontag received a B.A. from the University of California, Berkeley.