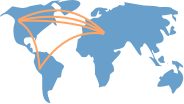 Show Academic Trajectory
Ph.D. candidate, focus on machine learning with imaging recognition and object detection, with model compression for speed acceleration and efficiency improvement, and mobile application development.
Strong programming skills, including experience working with Python, C++, Java, and SQL.
Highly-organized and efficient, willing to learn and progress, with a pleasant mature attitude.